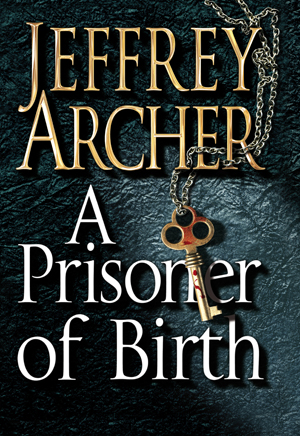 I have not read much of Jefferey Archer, but I have loved every book of his, i have laid my hand on. This one has become my second love (by his) after The Prodiigal Daughter (sequel of The Kane & Abel).

I got this one by chance. Was out with my sis and Father to get books for the 48 hours long journey on Train...( well.. for the people who dont know - My family including me were going off to Kerala, to attend sweet Veen's wedding. ) I took up 'Like a Flowing River' by Paulo Coelho & My sis took up "This One".
So the journey starts and after settling down making sure that its a window seat- ever thought why we have a love for the window seat....??/, I take out my book to read on....I go as far as the first chapter and my focus shifts to the world outside... Delhi running out of my site and instantly villages start poppin in and out of my view of the window. Finally I conclude that Paulo Coelho is not for journey and is for serious reading and i cant keep my focus on with the Train moving. My sis too busy listening to songs on her cellphone's FM had clearly ignored her book, and what more I grabbed it to just have a look and dint even realise, when i got so involved in it. It only occured to me when my sis started eating my head out, asking for her book, and well - I would just say - " Its not that easy to make me stop from reading a book, once i have started off...", so it was all in vain.

'A Prisoner of Birth' is yet another novel which will engross you, as it did in his past works, so much so that you would start relating with the characters and fall in love with Danny Cartwright and Nick, even Big Al.
The book is about Danny - who in his lawyers' words is a Prisoner of Birth, but arn't all of us prisoner of births in some way or the other?

Danny who gets caught in, the murder of his Best Friend, Bernie. the day he proposes Marriage to his long time girlfriend - also Bernie's sister.
The story is about Danny's fight with the powerful men in their fields to avenge his friend's murder, for which he's sentenced to serve 22 yrs of his life in Jail, for a crime he did not commit.

The climax totally turns the story around, and well the book is full of surprises - Need to add this one up in your TBR's if you like this genre.



Will he ever be able to avenge his Friend's murder?
Will he ever be able to bring the real murderer's to their downfall?
Who will believe him?
Will he Ever be able to free himself from being a Prisoner of Birth...??
Remember to,
Love,
Nidhi
It is only with the heart that one can see rightly; what is essential is invisible to the eye.